We need something
different...
A healthy alternative...
For example:
A place for slow,
long-form writing.
Depth and substance.
Nourishment for
your mind.
This is Ken.
A place for meaningful conversations about how the world works.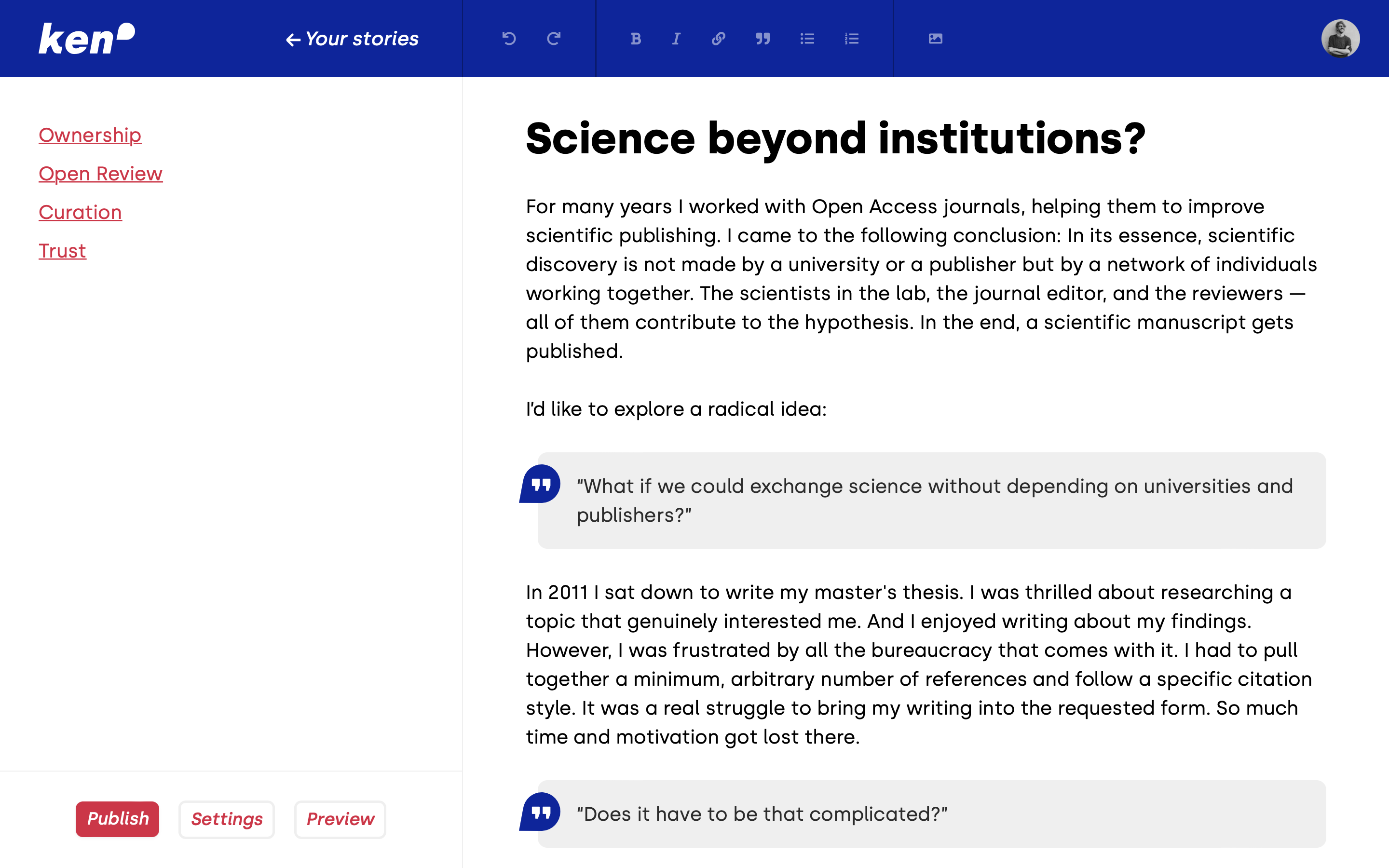 Right now, as of January 2023, Ken is slowly inviting like-minded people to join this experiment.
Writers, researchers, artists, scientists, internet enthusiasts, philosophers, and anyone who is generally curious is cordially invited to participate.
Let's turn this space into something where we'd like to hang out, and think together.
Is Ken for me?
Do you have a burning curiosity and many open questions about how the world works? Are you willing to self-discover answers that are true for you? Can you resist instant gratification through clicks and likes and are one of those people who can still focus on a text for longer than 3 minutes? Do you prefer learning from autobiographic stories over formal literature?
If yes, I'm convinced you will enjoy this community and the community will enjoy you.
How is this place different?
On Ken, you will find less. Fewer people, no distractions, and a minimal set of features. It is simply a journal for your ideas. Plus, correspondence in the form of open letter exchange. Much like good old black ink on white paper. Without the marketing hype around making money off your attention. It is thinking for the thinking's sake.
Okay, I'm interested! How can I get started?
The best way to use Ken is to sit down and articulate your questions and possible answers in short essays. I know this sounds scary, but what holds you back right now from signing up under a pseudonym and set free what's been bugging your mind lately?
At worst you gain some new clarity for yourself, at best a like-minded person starts an exchange and you become friends and business partners. That's what happened to me when Wolfgang contacted me one year after I published my first piece on Ken.
Be honest, not perfect. All stories on Ken are considered works in progress. They improve over time through public conversation.
Hello, I'm Michael.
I'm really unhappy with the way the internet currently works — in fact, I think it doesn't. So — I'm building a place where the dream of the internet will come true: free exchange of knowledge and ideas.
This place is Ken.
I hope this somewhat resonates with you, and that you'll trust me to dedicate some of your precious time to building this place.
Thank you. :)
Thank you
Eugene Kudashev
and
Stefan Macheiner
for the concept and the design of this page. Furthermore, thanks to
Ness Ruby
,
Selina Kurzmayr
,
Jörg Krenmayr
,
Florian Hoflehner
,
Kristina Feldhammer
,
Valentin Geiseder
,
Matthias Zauner
,
Sudara
,
Aron Mahari
,
Wolfgang Kern
,
Florian Aufreiter
,
Anthony Hobday
,
Tom MacWright
and many more for helping turning Ken into what it is today. Last not least, thank you to my family and in particular my wife
Sonja
for your support and listening to me talking about Ken for hundreds of hours.